ftp.dell.com direct iDRAC update – MAJ
Posted by NiTRo | Filed under Hardware, Tips & Tricks, VSAN
MAJ 19/11/2021 : Dell a coupé le service ftp à partir de février 2021 mais il est possible de passer en https pour les idrac qui le supporte (une maj est parfois nécessaire) :
Dell EMC has retired ftp.dell.com and transitioned exclusively to a global downloads site with regional hosted repositories .Feb 21, 2021
MAJ 27/07/2016 : Il semblerait que la valeur "/catalog" pour la Catalog Location offre des versions nettement plus up2date.
Parmi les nombreuses méthodes pour upgrader les firmware des composants d'un serveur Dell, il y en une qui nous intéressait beaucoup mais que nous n'arrivions pas à faire fonctionner : la méthode ftp.dell.com
The repository could either be ftp.dell.com or a user generated repository on the local network share.
Sur les serveurs Dell relativement récents, il est en effet possible de "stager" et "scheduler" toutes les updates matérielles possibles directement depuis l'iDRAC en live depuis le ftp Dell. Et depuis la version v.2.21.21.21 les firmwares des HDD/SSD sont complètement supportés même sur un contrôleur en mode HBA (passthrough).
Malheureusement impossible de trouver dans les docs Dell les informations nécessaires pour y arriver :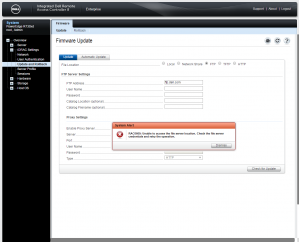 Mais ça c'était avant de connaitre Lionel, Onsite System Engineer chez Dell, qui nous a donné le trick :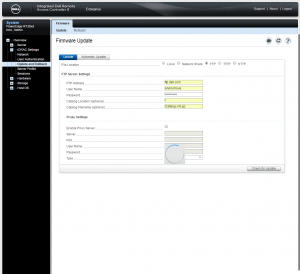 FTP Address : ftp.dell.com
User Name : anonymous
Password : user@domain.com
Catalog Location : /
Catalog Filename : Catalog.xml.gz
D'après le serveur ftp de Dell, le password doit etre un e-mail : "Anonymous access allowed, send identity (e-mail name) as password."
Ensuite vous rebootez quand vous voulez et les patchs sont appliqués (rapidement) par le Lifecycle Controler :
Merci Lionel