vMotion SDPS madness
Posted by NiTRo | Filed under Performance, VMware
Nous profitons de la coincidence d'un problème rencontré récemment chez un client et d'un excellent post de Niels Hagoort, le co-auteur du célèbrissime VMware vSphere 6.5 Host Resources Deep Dive, pour vous parler d'une fonctionnalité de vMotion apparu dans ESX 5.0 : Stun During Page Send (SDPS).
vSphere 5 introduces a new enhancement that ensures vMotion will not fail due to memory copy convergence issues. As noted in the "Architecture" section, transfer of the virtual machine's memory contents during the vMotion process involves an iterative precopy procedure. In most cases, a precopy iteration should take less time to complete than the previous iteration. However, a pathological case where the virtual machine modifies memory faster than it can be transferred—due to workload characteristics or network infrastructure limitations—results in aborting vMotion in vSphere 4.1 and prior releases, because precopy fails to make forward progress. The enhancement in vSphere 5 slows down the virtual machine during such pathological cases and ensures that the memory modification rate is slower than the precopy transfer rate, thereby preventing any possible vMotion failures.

Vous l'aurez compris, si l'ESX source n'arrive pas à "dépiler" la vram suffisamment vite lors d'un vMotion, l'execution de la VM en question est ralentie jusqu'à ce qu'une convergence soit possible, dans la limite des timeout par défaut.
Cette fonctionnalité semble parfaite pour les monster VM qu'on a du mal à évacuer lors d'un passage en maintenance mode mais elle est aussi très "problématique" lorsque l'infrastructure réseau n'est pas ou plus adaptée. D'où le très discret "network infrastructure limitations" dans le descriptif.
En l'occurence, le client en question mène une campagne de "refresh" de son parc afin de remplacer des machines ayant largement dépassé leur date de péremption technique. Mais sans faire évoluer son réseau. Il se retrouve donc avec machine de 2To de RAM sur un réseau 1GbE.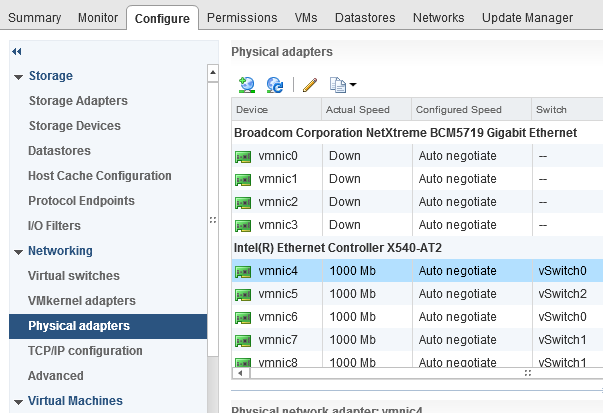 Evidement, à mesure que des VM de plus en plus grosses sont provisionnées sur ces environnements, les fenêtres de maintenance sont de plus en plus grande mais surtout des ralentissements apparaissent lors des mise en maintenance ou simplement quand DRS déplace de VM :
018-12-13T16:32:29.378Z cpu18:74031)VMotion: 4943: 7811810961774337297 S: Not enough forward progress, enabling SDPS (Pages left to send: prev2 693298, prev 461605, cur 497489, network bandwidth ~28.619 MB/s, 94% t2d)
2018-12-13T16:38:32.426Z cpu188:72874)VMotion: 4943: 7811810962073701659 S: Not enough forward progress, enabling SDPS (Pages left to send: prev2 126959, prev 18467, cur 15909, network bandwidth ~60.158 MB/s, 103% t2d)
SDPS fait son boulot et il le fait bien alors évidement pour faire passer des VM de 256Go qui bossent fort dans du 1GbE ca pique… Donc la prochaine fois qu'on vous dit que la bande passante de vmotion peut être sacrifiée, vous saurez quoi répondre.
Evidement, il y a un (mauvais) plan B :
To work around this issue, the Stun During Page Send (SDPS) feature can be disabled on a per-host basis.
[...]
Change the value of Migrate.SdpsEnabled to 0.
Nous en profitons pour souligner un autre "petit" détail du texte au sujet du Page Tracing :
During the pre-copy phase, the vCPU's, in use by the virtual machine, are briefly stunned to install the page tracers.
Tags: stun, troubleshooting, VMotion