vCheck : l'ultime script de reporting pour vCenter
Posted by NiTRo | Filed under Tips & Tricks, VMware
MAJ 10/11/2009 : Afin de corriger quelques bugs, nous venons de mettre à jour le script. Ceux qui l'avaient téléchargé sont vivement encouragés à prendre la nouvelle version.

La v3 de vCheck (aka Daily Report) vient de sortir. Si vous ne connaissiez pas cet outil, nous tenons à vous prévenir qu'il est hautement addictif ! Une fois testé, vous ne pourrez absolument plus vous en passer.
La preuve : lorsqu'Alan Renouf avait mis à dispo la v1, nous l'avions contacté pour lui transmettre notre vif intérêt ainsi qu'une petite astuce pour améliorer l'affichage sur un iPhone. Depuis, c'est une tache planifiée sur notre vCenter qui actualise toutes les 2 heures une page web et une autre qui envoi aux admins l'équivalent par mail à 9h et 17h. Mais surtout, des échanges réguliers avec Alan pour ajouter un maximum de "check" et rendre ce script aussi incontournable qu'il l'est aujourd'hui !
Ce script vous permet d'avoir une véritable vu d'ensemble sur tout ce qu'il y a à savoir (ou presque) sur votre infrastructure VMware. Voici un extrait de la longue liste des fonctions de vCheck :
Datastores with less than x % free space
VMs with No Tools (or not running)
VMs with CPU ready over x %
Hosts in disconnected state
NTP Service/Server check
VC Error Events over the last x days
Cluster Active Alerts
Dead SCSI Lun path
VMs in Inconsistent folder name
VMSwapfileDatastore not set
Avec l'accord d'Alan, nous avons ajouter quelques fonctions propre à nos besoins qui seront peut être intégré à la v4 :
Host Ballooning
Datastore OverAllocation
Snapshot Oversize
VCB garbage
VMkernel warning check for ESX/ESXi (with deduplication)
invalid or inaccessible VM
Snapshot add/remove summary
Time build
NTP (service only) check
Le résultat est tout simplement bluffant :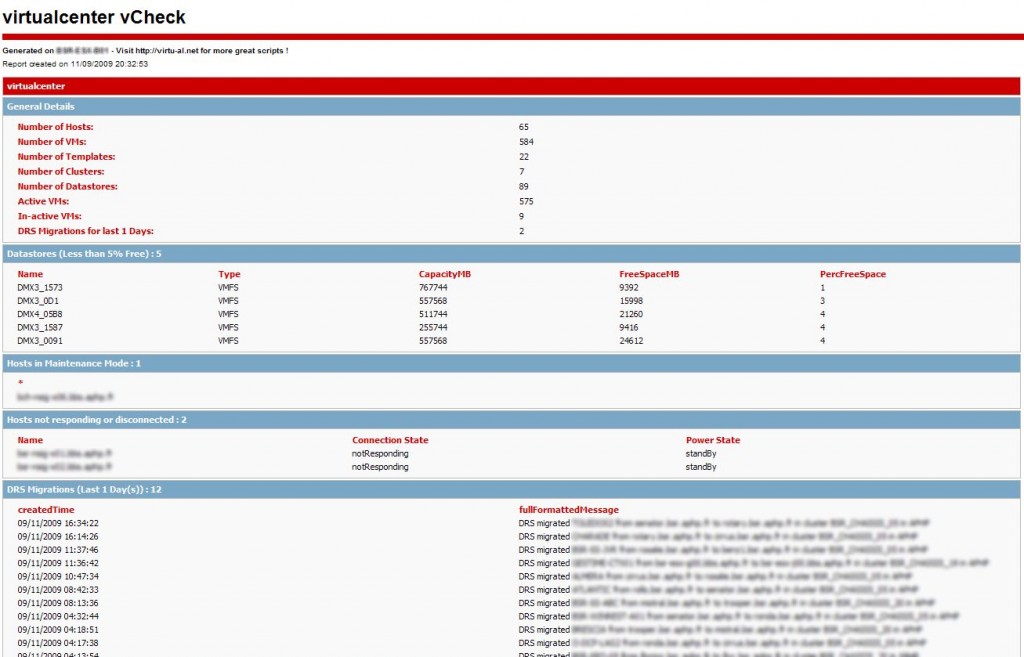 ***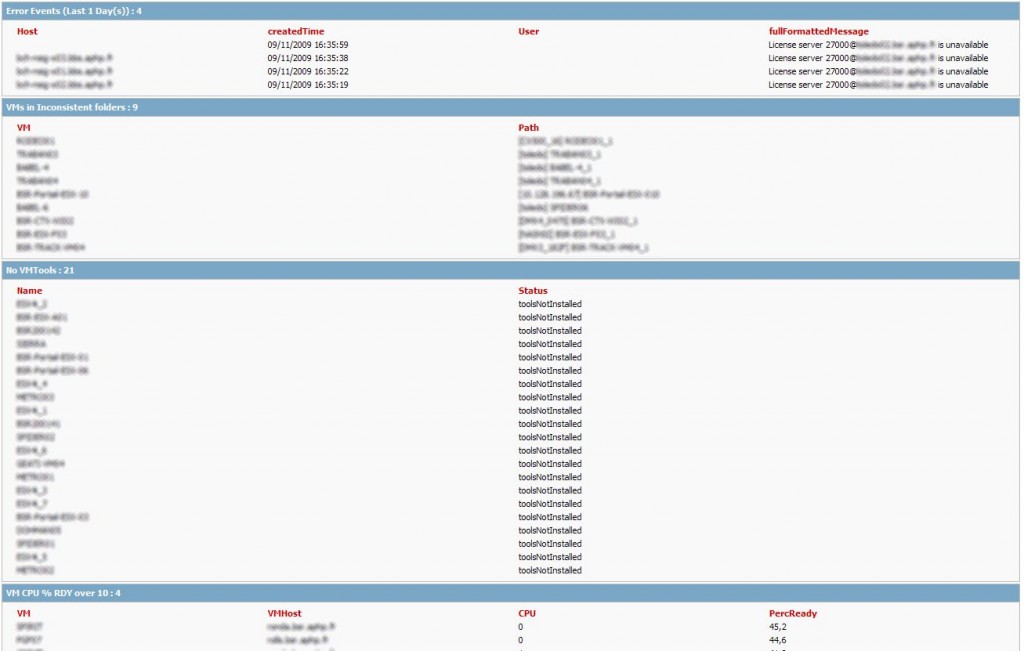 ***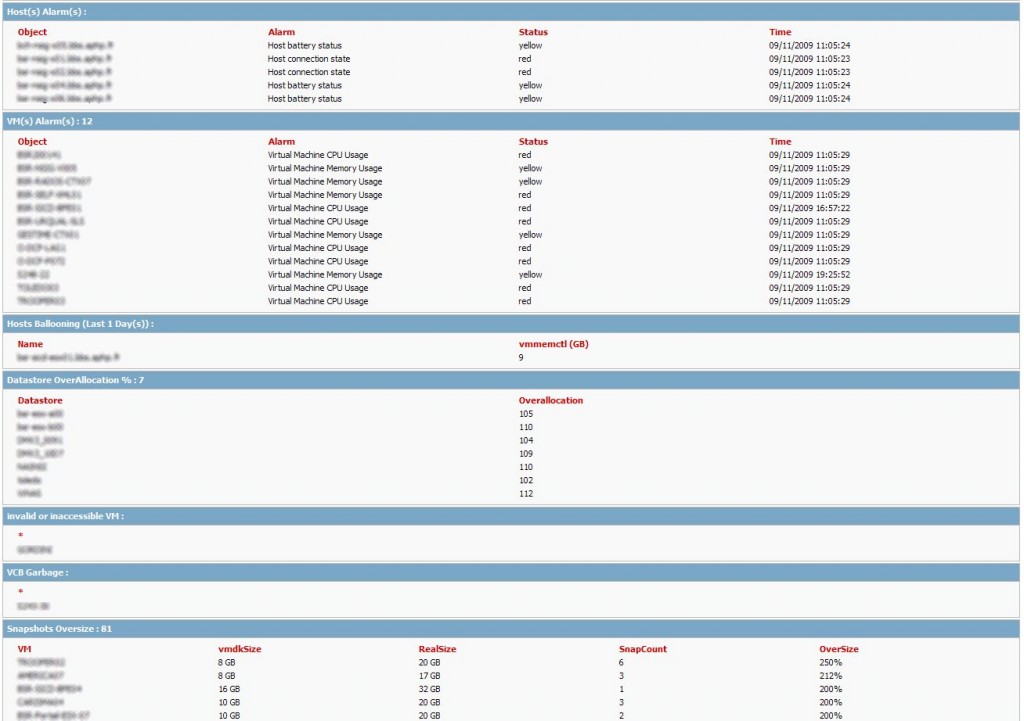 ***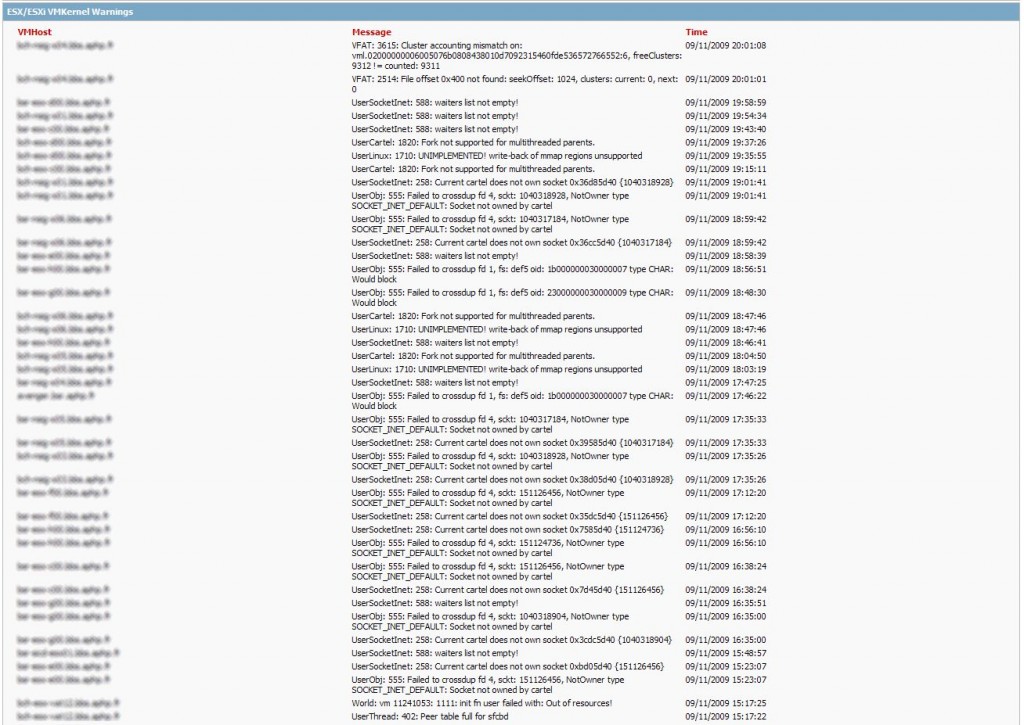 ***

***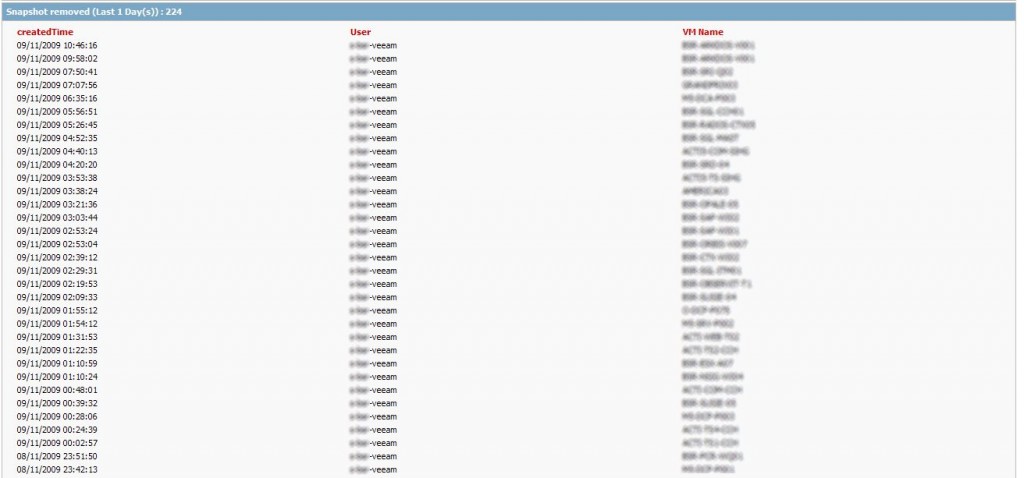 ***

***
***

***

***
Pour le détail sur comment ça marche, comment ça se colle en tache planifiée, etc… c'est sur le blog d'Alan Renouf (aka Virtu-Al).
Pour le download de notre version custom, c'est ici : vCheck_v3+.txt
And we would like to truly thanks Alan for let us collaborate in that very great project !
Tags: powershell, scripting, vCenter