ghettoVCBg2 : Backuper vos ESXi pour 0€ !
Posted by NiTRo | Filed under Tips & Tricks, VMware
La version g2 du célèbre script de backup ghettoVCB à été mise à jour en version 2.5.1 il y a quelques semaines, l'occasion pour nous de faire un bref rappel des capacités monumentales de cet outil gratuit (développé par William Lam et Tuan Duong):
Single VM backup list across multiple ESX/ESXi host(s)

Credential-less backups (so long as host(s) are being managed by VIMA/vMA)
Online back up of VM(s)
Support for multiple VMDK backup per VM
Support for VM(s) with Virtual RDMs

Ability to specify the number of backup rotations per VM

Fully support VMDKs stored across multiple datastores

VM snapshot memory and quiesce options
Il vous sera donc possible d'utiliser une appliance VIMA/vMA comme scheduler pour vos backup sans installer le moindre composant sur les VM ni sur les hosts. Ce script est totalement gratuit mais il ne permet pas de backup sur la version free d'ESXi (sauf -par erreur- sur ESXi 3.5 U3) à cause de la politique VMware :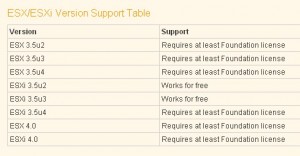 La section Tools à été mise à jour en conséquence.