VSAN SwapThickProvisionDisabled OneLiner
Posted by NiTRo | Filed under News, VMware, VSAN
Alors que nous en rêvions depuis 10 ans pour VMFS, VMware a introduit dans VSAN 6.2 la possibilité de "thin provisioner" la swap des VM :
In Virtual SAN 6.2, we introduced an advanced host setting called SwapThickProvisionDisabled, when enabled, removes the space reservation for .vswp files.
Une preuve de plus, s'il en fallait, que la bataille du SDS/HCI est rude jusqu'à en rogner ses best practices. En effet, nous rappelons à ceux qui auraient un trou de mémoire que placer le fichier de swap d'une VM sur un stockage "thin provisioné" va à l'encontre de toutes les bonnes règles de gestion et d'overcommit.
Do not store swap files on thin-provisioned LUNs. Running a virtual machine with a swap file that is stored on a thin-provisioned LUN can cause swap file growth failure, which can lead to termination of the virtual machine.
Regardless of the storage type or location used for the regular swap file, for the best performance, and to avoid the possibility of running out of space, swap files should not be placed on thin-provisioned storage.
Qu'importe, ca nous arrange bien aussi et pour l'occasion nous avons fait peter un petit oneliner pour fixer la bonne valeur :
Get-VMHost|%{(Get-EsxCli -VMHost $_).system.settings.advanced.set($null,"1","/VSAN/SwapThickProvisionDisabled",$null)}
Et un autre pour vérifier que c'est bien appliqué :
Get-VMHost|%{(Get-EsxCli -VMHost $_).system.settings.advanced.list($null,"/VSAN/SwapThickProvisionDisabled",$null)}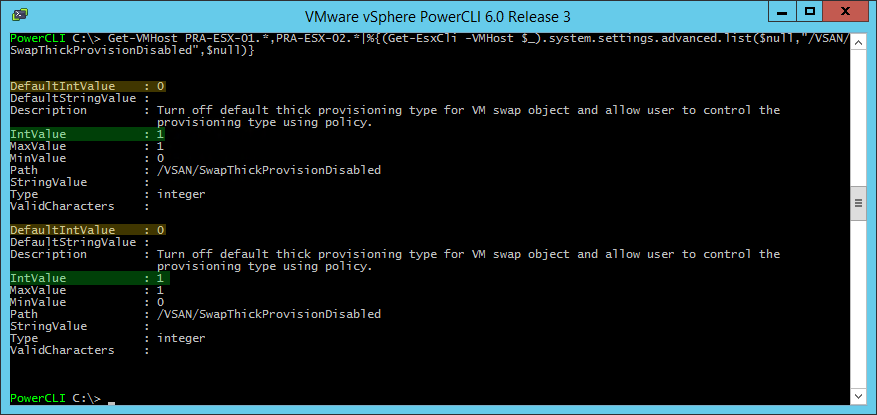 Avec un petit coup de SexiGraf pour monitorer le tout, on est bon :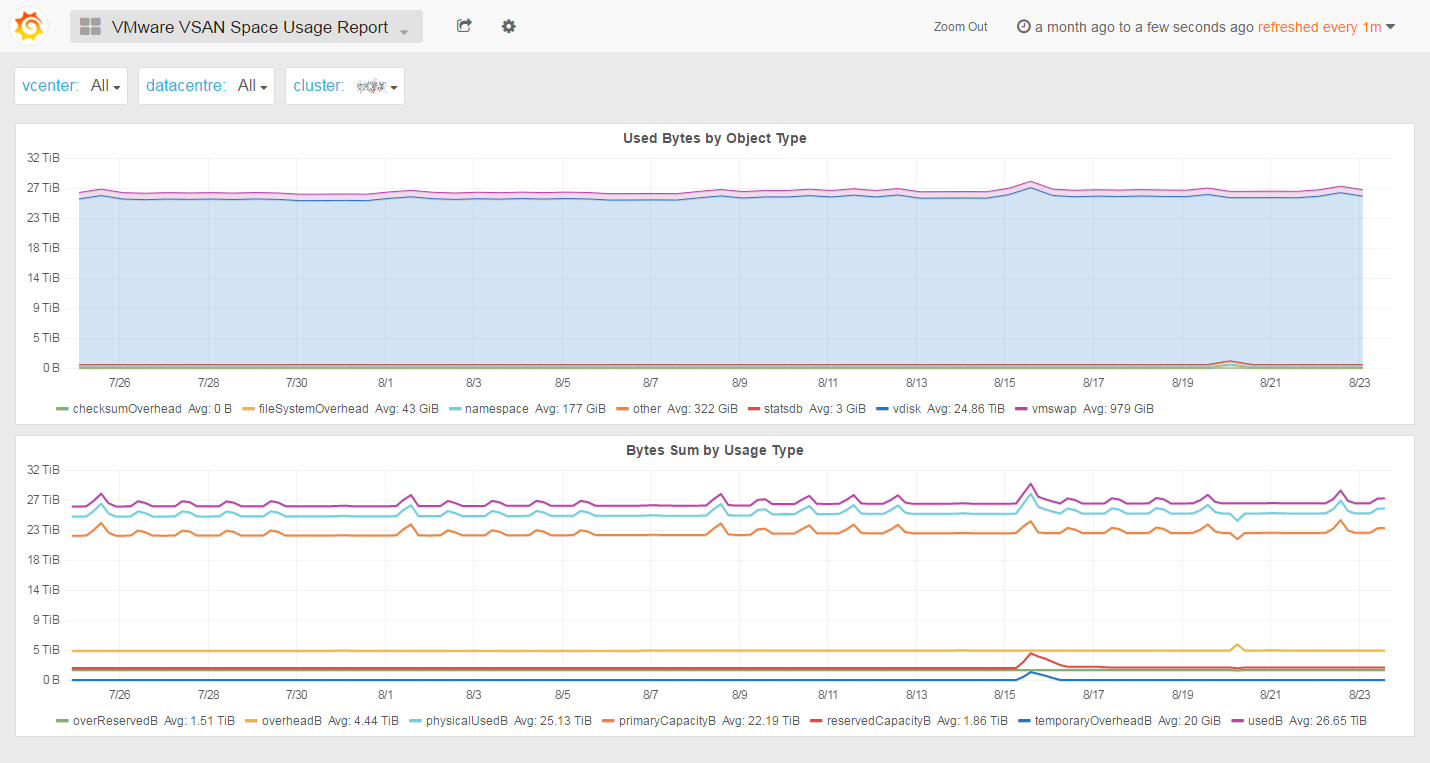 Tags: overcommit, PowerCLI, powershell