vCenter Server 2.5 Update 4 disponible
Posted by NiTRo | Filed under News, VMware
Alors que le VMworld bat son plein (4700 personnes présentes), les développeurs de chez VMware continuent à bosser.
vCenter (aka VirtualCenter) Server 2.5 Update 4 (build 147633) est sorti hier soir dans une certaine indifférence malgré les nouveautés :
Supports customization of Windows Server 2008 guest operating systems
Performance Overview Charts (Performance Overview plug-in)
VMware Converter Enterprise Update 4 for VC 2.5
VMware Update Manager 1.0 Update 4 for VC 2.5
Le changelog est assez conséquent et on peut y trouver quelques correctifs qui apportent également quelques fonctionnalités supplémentaires :
In Addition to Virtual Machine Heartbeats the Virtual Machine Monitoring Service Monitors a Virtual Machine's Disk and Network Activity

Starting with the VirtualCenter 2.5 Update 4 release, the virtual machine monitoring service also monitors a virtual machine's disk and network activity. Even if no heartbeats are received within the failure interval, the virtual machine remains powered on unless no disk or network activity is detected for a predetermined I/O stats interval.
Concernant le plug-in Performance Overview Charts, même s'il est un peu complexe à mettre en place, le résultat en vaut la peine :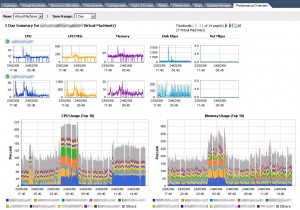 Tags: ESX, VirtualCenter