Large Pages on Demand
Posted by NiTRo | Filed under Hyper-V, Performance, Test, Tips & Tricks, VMware
Comme nous vous l'avions promis, voici un retour d'expérience sur l'implémentation du paramètre LPageAlwaysTryForNPT à "0″ qui force ESX à n'allouer une Large Page que lorsque le GuestOS d'une VM le lui demande explicitement et qui permet de bénéficier de TPS sans attendre que l'ESX n'ait à les "casser" en cas de contention.
In the cases where host memory is overcommitted, ESX may have to swap out pages. Since ESX will not swap out large pages, during host swapping, a large page will be broken into small pages.
Afin d'avoir une meilleure visibilité sur ce qui change au moment où nous avons activé le paramètre et lancé une vague de vmotion au sein du cluster pour l'appliquer, nous avons utilisé les mêmes compteurs que le "dashboard" Guest Memory (aka ResourcePoolQuickStats) pour en faire un rrd sous cacti (avec les même couleurs) :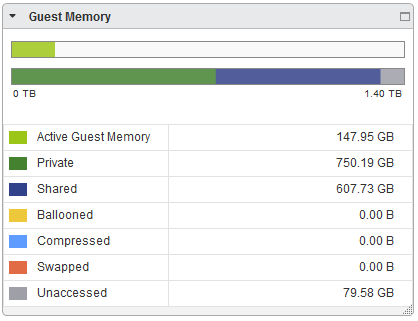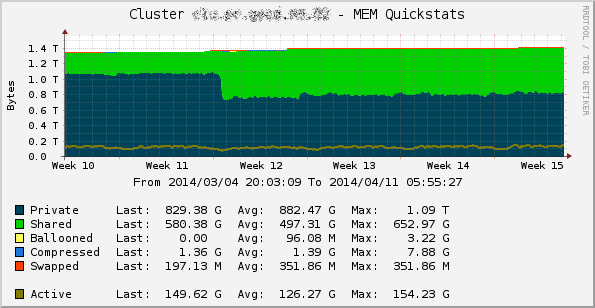 Un gain immédiat de 20% de RAM sans consommation CPU supplémentaire ni augmentation manifeste de latence (dans notre cas) :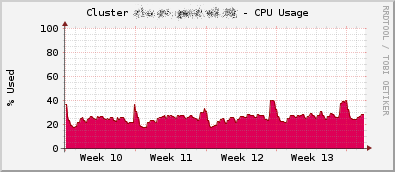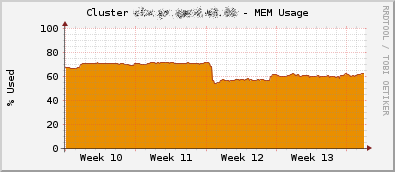 Et pour ceux qui se posent la question, dans ce cluster cumulant 1.5To de RAM attribuée à des VM Windows 2008 R2 et RHEL 6 x64, seulement 40Go de Large Pages sont allouées en moyenne.
Moralité, TPS c'est bon, mangez-en !