Disk UUID match VMware/Windows – MAJ
Posted by NiTRo | Filed under HowTo, VMware
MAJ 21/05/2014 : Mise à jour du script (version 1.2) : Ajout de la taille des disk VMware/Windows
MAJ 25/04/2014 : Mise à jour du script (version 1.1) : A la demande express de notre ami DR, nous avons rajouté le paramètre -VIX pour faire la requête WMI via les vmtools et le paramètre -noSSO pour spécifier des credentials autre que ceux de votre session courante. A ce propos, et à notre plus grande surprise, la cmdlet Invoke-VMScript semble dorénavant supporter le SSO donc si votre compte AD à les bons droits sur le vCenter et dans le GuestOS, plus besoin du paramètre "GuestCredential" pour faire du VIX !
Lorsqu'on vous demande de retirer quelques disques d'une VM Windows qui en possède une cinquantaine, c'est généralement le début d'une longue chasse où on essaye de faire correspondre les id scsi, les contrôleurs ou les tailles de volume quand on est vraiment au bout du rouleau…
Il y a bien des scripts PowerCLI pour surmonter la tâche mais l'élément de référence est toujours l'id scsi ce qui pose parfois des problèmes comme ça l'à été pour nous lors d'une opération similaire :
Une kb VMware décrit comment faire une correspondance via le device manager de windows (et non pas le disk manager) mais où il faut chercher à la main la propriété "location" qui correspond au contrôleur scsi :
To correlate the virtual device node SCSI controller to the Windows drive letter. Each controller increments by 32.
The first SCSI controller is given a location ID of 160. Therefore the second controller is 192, 224 for the third and 256 for the fourth.
Nous vous laissons apprécier l'ampleur de la tache lorsqu'on a plusieurs disques à détacher :
En cherchant un peu sérieusement, nous avons trouver un point commun parfaitement identique entre Hard disk et PHYSICALDRIVE : l'UUID (ou SerialNumber sous Windows). Un petit coup de PowerCLI plus tard, on obtient un beau tableau pour faire la correspondance sans risque (avec le chemin du vmdk en bonus) :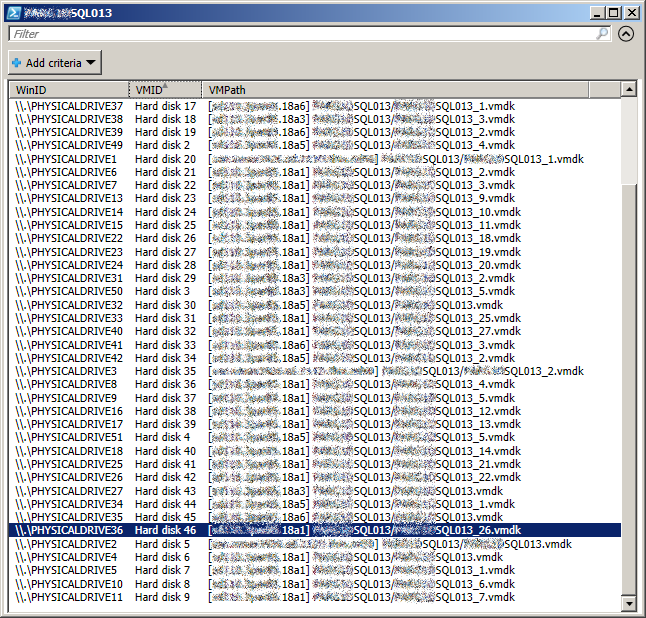 Les prérequis du script sont que vous soyez connecté au bon vcenter et que vous puissiez accéder en WMI à la VM en question (si le FQDN de la vm ne correspond pas à son nom, il faut utiliser le paramètre -winname). Le paramètre -grid controle la sortie dans un GridView pour ceux qui n'aime par le style CLI :