ESXCLI is the new VUM
Posted by NiTRo | Filed under Tips & Tricks, VMware
Lors d'une tentative d'upgrade d'ESXi 5.1 vers 5.5 avec VUM, nous nous sommes heurté à un message d'erreur des plus vagues :
The upgrade contains conflicting VIBs. Remove the conflicting VIBs or use Image Builder to create a custom upgrade ISO image that contains the newer versions of the conflicting VIBs, and try to upgrade again.
Il nous a fallu fouiller au fin fond des logs d'ESXi pour identifier les VIB en question :
Si vous lisez attentivement les release notes, vous savez déjà que depuis ESXi 5.1 il est possible d'upgrader avec la commande esxcli directement depuis le vib depot de VMware (William Lam a d'ailleurs écrit un post à ce sujet pour détailler le process) :
You can upgrade and apply patches to ESXi 5.0.x hosts by using the esxcli command-line utility for ESXi to upgrade to ESXi 5.1 from a download depot on vmware.com or from a downloaded ZIP file of a depot that is prepared by a VMware partner.
Nous avons donc tenté la même opération en ssh et l'erreur retournée par ESXCLI est nettement plus précise que celle de VUM :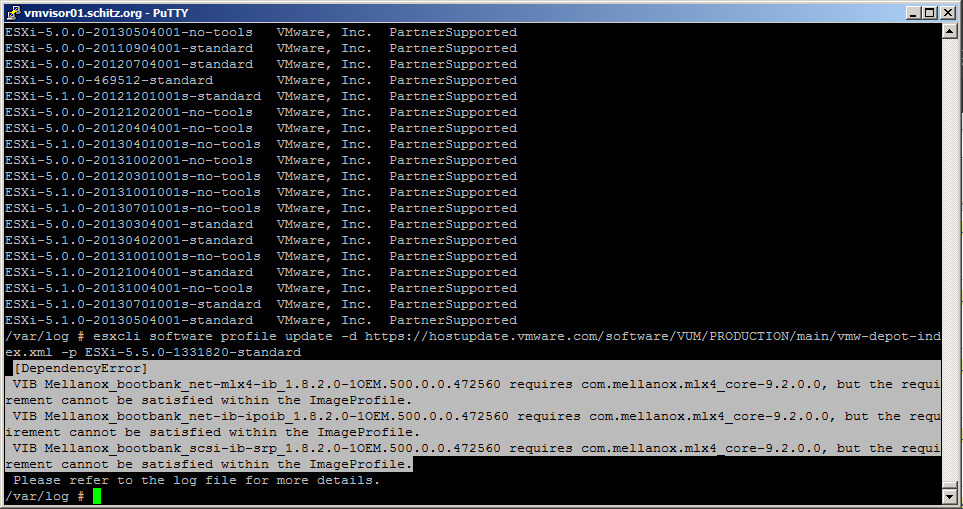 Au passage, on attend toujours un plugin VUM digne de ce nom pour le webclient…