Fuite mémoire de la console veeam B&R 6.1 – MAJ
Posted by NiTRo | Filed under Performance, veeam
MAJ 23.09.2012 : Le patch 1 à été mis à jour  par la version 6.1.0.205 (1b) pour corriger le bug lié à vSphere 4.1 U3.
MAJ 28.08.2012 : Veeam nous confirme que ce bug à été corrigé dans le patch 1a 6.1.0.204, au cas ou vous auriez la version 6.1.0.203 (une "early" version du patch 1), assurez vous de re-télécharger la dernière version.
Nous avons pu observer par hasard la fuite mémoire d'une console veeam B&R 6.1 (6.1.0.181) laissée ouverte dans une session RDP pour un accès plus rapide :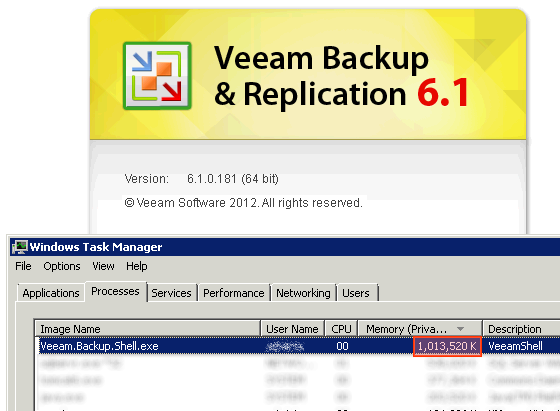 Tom Sightler, Solutions Architect chez Veeam, nous confirme le leak et conseil de ne pas laisser le client ouvert tant que le bug n'est pas résolu.
[...] the 6.1 GUI has a pretty big leak. The larger the environment the faster it seems to grow. In some cases it only takes a few hours to get so big as to impact performance. I've even seen cases where the memory used by VeeamShell is large enough to cause problems with backup jobs. For now the only workaround is to keep the GUI closed when not in use.
Tags: bug, memory leak