Veeam backup v6
Posted by NiTRo | Filed under Kb, News, veeam
MAJ 09/02/2011 : le patch 3 fraîchement disponible corrige enfin les derniers gros bugs de la v6, mais pas tous…
If you plan to use Direct SAN access mode, are running a localized version of Microsoft Windows, or are upgrading from a previous version of Veeam Backup & Replication, consider installing the patch.
Vous n'avez sans doutes pas pu passer à coté du lancement de la version 6 de Veeam Backup & Replication tant la liste de nouvelles features est impressionnante. La capacité à faire un failback sur les jobs de réplication, le support d'Hyper-V (avec "CBT" via un driver "made in" Veeam) et le changement d'architecture (proxy/server/repository) étant les 3 changements majeurs.
Attention toute fois, la v6 souffre encore de quelques bugs (plusieurs patch successifs ont été mis à dispo par le support veeam) qui en ont même découragé certains, nous y avons d'ailleurs dédié un short link : vm.lc/v6
N'hésitez pas à utiliser notre script de linked clone pour tester vos upgrades.
Comme toujours, c'est dans les petits détails que l'on peut juger de la finition d'un produit :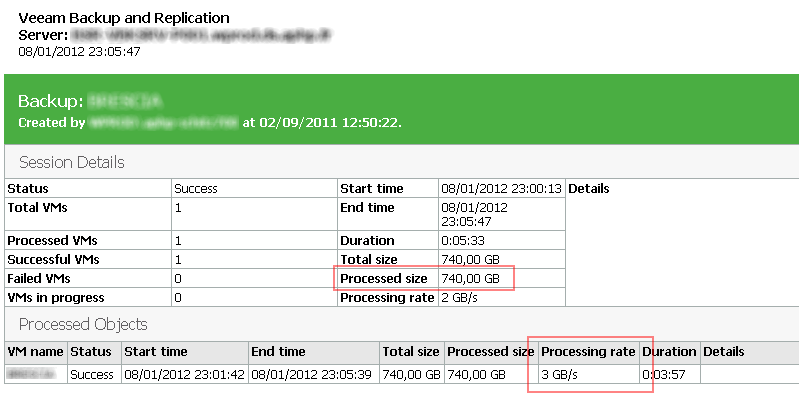 Avec le nouveau report de la v6, adieu les taux de transferts cosmique qui plaisait tant aux commerciaux…
Et pour inaugurer notre nouveau slogant "There's A One-liner For That", en voici un qui aura sa place dans vos taches planifiés pour "retry" un job "failed" :
Get

-

VBRJob

|?

{

$_

.GetLastResult

(

)

 

-eq

 

"Failed"

}

|%

{

Start

-

VBRJob 

$_

 

-

RetryBackup 

-

RunAsync

}
Tags: veeam