Infiniband@home : votre homelab à 20Gbps
Posted by NiTRo | Filed under Hardware, Performance, Test, VMware, ZFS
MAJ 07/03/2014 : Le beta test du package ib-opensm-3.3.15 pour ESXi 5.5 est terminé et Andreas Peetz nous a fait l'honneur de le publier sur son vibdepot. Toutes les informations d'usage sont disponibles sur son wiki mais nous reprécisons que ce package n'est pas supporté pour VSAN à cause du timeout trop important en cas de (ré)élection du master opensm.
MAJ 30/01/2014 : Suite à d'autres problèmes de stabilité avec ESXi 5.5, nous retirons la version x64. Une nouvelle version est actuellement en beta test, n'hésitez pas à nous contacter pour la tester.
MAJ 26/11/2013 : Suite à des problèmes de stabilité, nous avons compilé la version 3.3.15 en 64bit et remis à disposition la 3.3.15 32bit en lieu et place de la version 3.3.16
MAJ 22/10/2013 : Nouvelle vib en version 3.3.16-64 qui apporte le support d'ESXi 5.5 (les binaires et librairies sont maintenant en 64bit) et rétrocompatible en 5.1 (probablement 5.0 aussi).
MAJ 02/10/2013 : Mise à jour du vib avec la version 3.3.16 d'opensm. Aucune version compatible avec ESXi 5.5 pour le moment.
Suite à notre post sur l'EZ Compact 6 il y a quelques mois, nous avons été victimes de "l'effet SSD" qui donne l'impression que n'importe quelle grappe de disques SAS 15K en stripping est une grosse brouette. En effet, après avoir goutté à un agrégea de SSD vous devenez immédiatement addict aux latences extrêmement faibles ainsi qu'aux débits improbables qui vous font douter de la bande passante théorique du PCIe. Mais pour en profiter au delà du serveur dans lequel se trouve vos précieux, il faut un protocole de transport plus rapide et performant que du simple GbE. Suite à quelques recherches, le choix du Fibre Channel en mode FC-P2P ou FC-AL s'avérait être le plus pratique (pas besoin de switch, seulement des cartes HBA et des fibres pour les relier) et peu coûteux compte tenu de l'immense marché de l'occasion.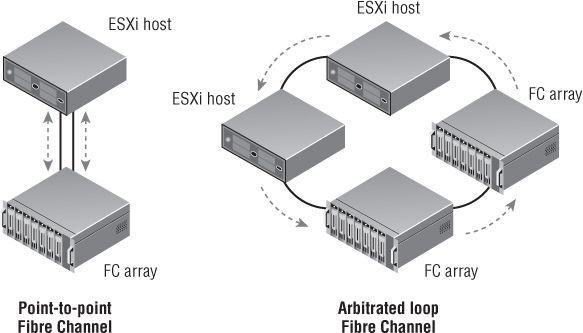 Un petit tour sur eBay et nous voila avec notre FC@home qui nous a permis de faire des tests intéressants comme ceux pour notre post sur le MRU ranking mais aussi de profiter pleinement des performances des SSD. Le seul "inconvénient" du FC est de ne transporter que du block et donc de ne permettre qu'un accès à des LUN. Sur une petite baie de stockage ZFS c'est un réel problème car cela oblige à prendre certaines précautions concernant la taille des LUN présentées pour profiter des snapshots et de la compression. Il y a donc de fortes chances que vous soyez dans l'obligation de réserver une quantité d'espace non négligeable pour éviter de saturer le zpool.
Nous partons alors en quête de cartes réseau 10GbE avec lesquelles nous pourrions faire du NFS mais aussi des vmotion à des vitesses indécentes. Malheureusement ce matériel reste encore très cher pour un particulier à l'heure actuelle y compris d'occasion. Après quelques recherches, nous avons trouvé une solution très abordable (en occasion toujours) permettant de faire du block ainsi que du réseau à des débits hallucinants et avec des temps de latence extrêmement faibles : l'infiniband !
L'infiniband est un type de réseau très particulier permettant à la base de transporter des messages :
The basic idea behind InfiniBand is simple; it provides applications with an easy-to-use messaging service. This service can be used to communicate with other applications or processes or to access storage.
Grace à des ULP (Upper Layers Protocol) il est possible de transporter différents protocoles tels que du SCSI, de l'IP, du NFS ou du Lustre et même de faire du RDMA pour certains comme dans le cas du SRP ou du GPUDirect. Au fil de nos recherches nous avons pu remarquer que malgré des débuts difficiles, l'architecture infiniband semble s'imposer petit à petit dans de nombreux domaines pour des raisons de flexibilité, de performances et de coûts.
Pour en revenir à notre homelab, nous avons soigneusement cherché un modèle de carte dual port capable de fonctionner sur ESXi 5 ainsi que Nexenta 3 et c'est sur le forum de nexenta que nous avons trouvé la bonne affaire : HP 448397-B21 (chip Mellanox ConnectX). A 50€ sur ebay nous en avons donc commandé 3 ainsi que les câbles CX4 pour les connecter (infiniband supporte le back-to-back à l'instar du FC et de l'ethernet).
Tout semblait "se dérouler sans accrocs" mais alors que nous relisions le User Manual des drivers Mellanox en attendant que les cartes nous soient livrées, un paragraphe allait radicalement changer la nature de notre aventure :
The driver package requires InfiniBand Subnet Manager (SM) to run on the subnet. The driver package does not include an SM.
If your fabric does not include a managed switch/gateway, an SM application should be installed on at least one non-ESXi Server machine in the subnet. You can download an InfiniBand SM such as OpenSM from www.openfabrics.org under the Downloads section.
En effet, contrairement à FC ou ethernet, les cartes infiniband (HCA) ne suffisent pas à constituer un réseau fonctionnel (et sans SM sur le subnet, les ports IPoIB sont down), il faut un Subnet Manager pour gérer la topologie du réseau infiniband et ce composant n'existe pas (publiquement) pour ESXi, pas jusqu'à maintenant en tout cas…
Un SM étant nécessaire pour chaque subnet, notre design en "triangle" (2 ESXi + 1 Nexenta) nécessitait forcement un SM coté ESXi pour gérer le subnet entre les 2 ESXi (pour le vmotion) et un SM pour chacun des liens ESXi/Nexenta (pour le SCSI et le NFS). Et dans un excès d'optimisme, nous voila parti à essayer de compiler OpenSM pour ESXi et en faire un vib

Nous avons commencé grâce au post de William Lam basé sur le post de Stjepan Groš et avons réussi à compiler une version fonctionnelle après avoir résolu des problèmes de dépendances (libibmad, libibumad et libwrap) et de chemins dans les sources (umad.h). Nous avons ensuite du faire face à un problème de cpu loop (osm_vendor_ibumad.c) que nous n'aurions pu résoudre sans l'aide précieuse de Hal Rosenstock, de chez Mellanox (très actif sur la mailing list d'openfabrics). Finalement, après avoir mijoté un script d'init, nous avions une version capable de démarrer un SM par subnet, supportant un fichier de partition (topologie du réseau) et capable de réassigner les LIDS (équivalent des adresses MAC ou des WWN) en cas de besoin. Yatta !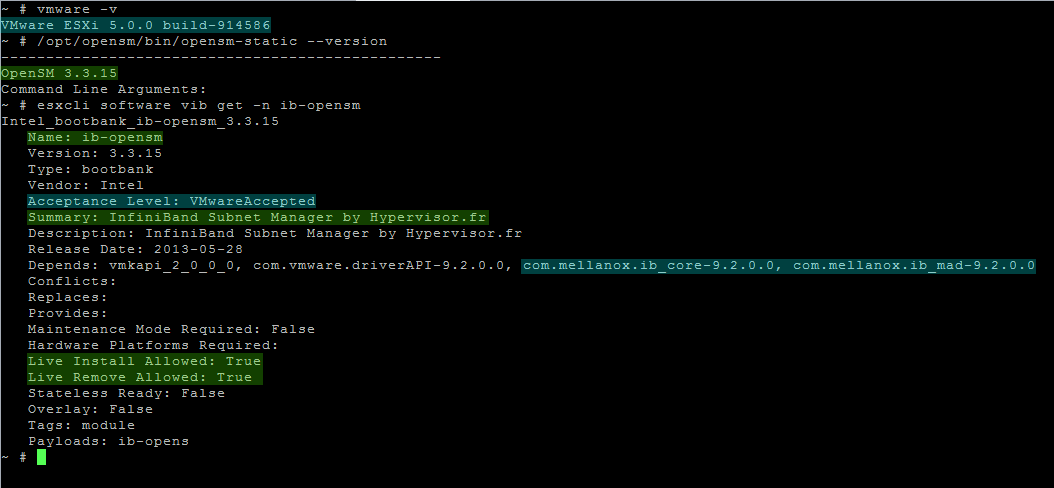 Nous n'avons eu qu'à utiliser l'excellent ESXi Community Packaging Tools d'Andreas Peetz (autrement plus abouti que VIB Author) pour packager un joli vib à déployer avec esxcli (VUM ne supportant pas l'indispensable –no-sig-check) et hotplug ! De plus, OpenSM est capable de supporter plusieurs instances sur le même subnet où une seule sera MASTER et les autres STANDBY.
Voici donc le seul et unique vib qui vous permettra de faire du back-to-back entre 2 ESXi ou entre ESXi et n'importe quoi d'autre :
Un petit tour par l'onglet configuration d'ESXi :
Et enfin, quelques infos utiles :
Passons aux gros chiffres. On commence par une vague de vmotion :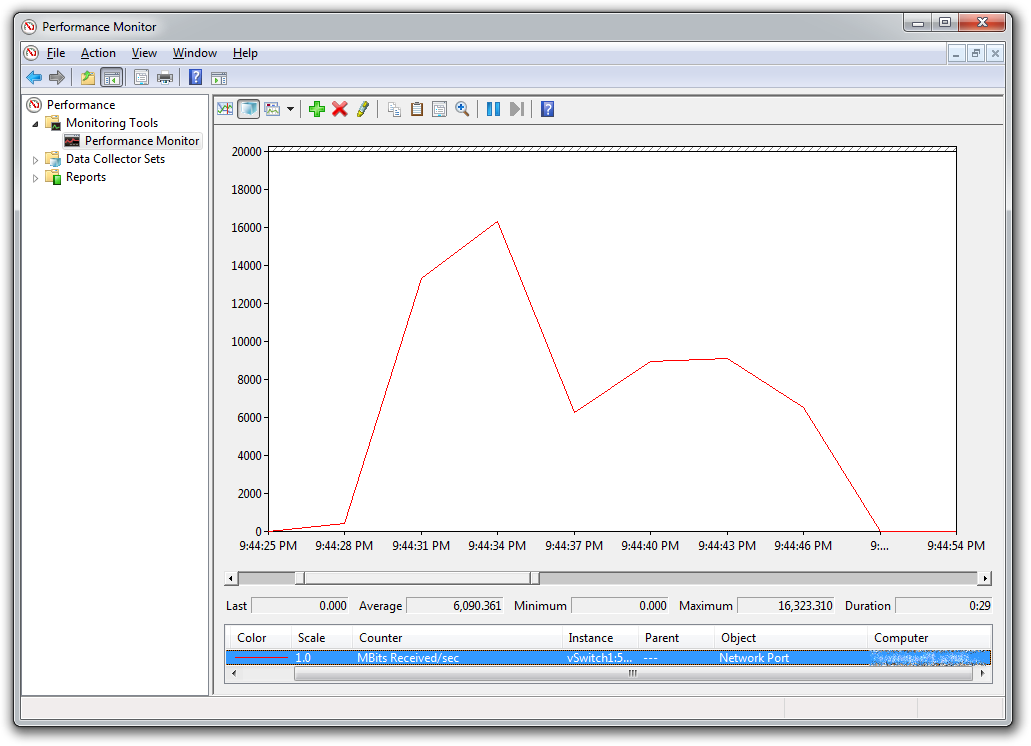 On continue avec un test d'IOPS avec VMware I/O Analyzer (appliance iometer) :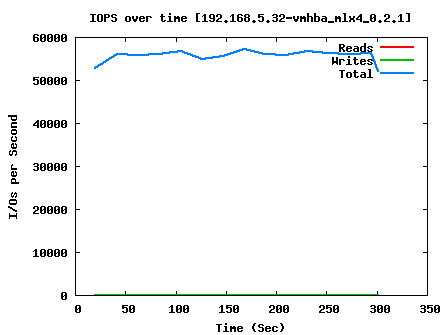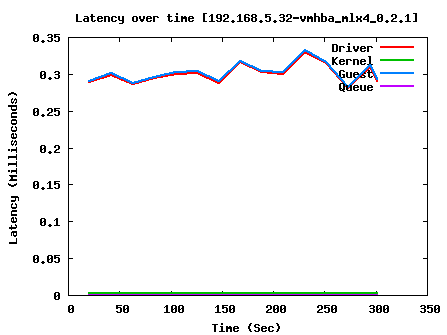 Et on termine par un test de throughput, toujours avec I/O Analyzer :
Il ne vous reste plus qu'à sécher vos larmes et aller vous faire plaisir sur eBay

Ces tests ont été réalisés sur 1 seul port 10Gbps DDR (soit 20Gbps) alors imaginez les résultats avec des cartes 56Gbps…
PS : Un grand merci à vmdude pour son aide et à tous les autres pour nous avoir supporté pendant notre période "infiniband cay le bien"