/!\ Migration vCenter 4.0>4.1 & SQL Server Express /!\
Posted by NiTRo | Filed under Tips & Tricks, VMware
Ce post ne concerne que ceux qui veulent utiliser l'outil de migration pour vCenter fourni par VMware (datamigration.zip) et dont la base de donnée est sous SQL Server Express.
Votre vCenter est en 32bit et vous souhaitez le migrer en 64bit

Ou

, votre vCenter est sous W2K3, vous souhaitez le migrer sous W2K8R2

Ou

, votre vCenter est sous W2K8, vous souhaitez le migrer sous W2K8R2

Et

, votre vCenter a déja "subi" une upgrade (2.5>4.0 ou 4.0>4.0 U1 par ex.)

Et

, sous [HKLM\SOFTWARE\VMware, Inc.\VMware VMware VirtualCenter] la valeur "DbServerType" est à "Custom"
VMware a pourtant tout prévu dans son script vcenterbackup.py :
# Checking registry entry for 'dbServerType' is not enough because when
# user upgrades from previous version of VC to newer version, it changes
# to 'Custom' although user is using bundled DB.
Et effectivement, même avec la valeur à "Custom", la base est bien sauvegardée mais PAS restaurée sur le nouveau vCenter.
Pour résoudre facilement le problème, il suffit de changer cette valeur en "Bundled" (dans [HKLM\SOFTWARE\VMware, Inc.\VMware Update Manager] aussi si besoin) AVANT l'execution du script backup.bat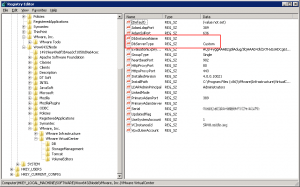 Autre problème, coté base ADAM cette fois, dont nous devons la résolution à Gregg Robertson :
Active Directory Web Services encountered an error while reading the settings for the specified Active Directory Lightweight Directory Services instance.  Active Directory Web Services will retry this operation periodically.  In the mean time, this instance will be ignored.

Instance name: ADAM_VMwareVCMSDS
C'est la valeur "Port SSL" sous [HKLM\System\CurrentControlSet\Services\VMwareVCMSDS\Parameters] qui est vide ET au mauvais format (REG_SZ). Il faut la supprimer et la remplacer par une valeur REG_DWORD à "636" puis relancer (dans l'ordre) le service "ADAM_VMwareVCMSDS" suivit de "ADWS".
Et dernier petit détail, après la migration il peut arriver que le log file de la base VIM_VCDB (VIM_VCDB.ldf) soit plein, provoquant l'arrêt du service vpxd. Vérifiez de ce coté en premier si cela venait à arriver sur le vCenter de destination.
Bonne migration !